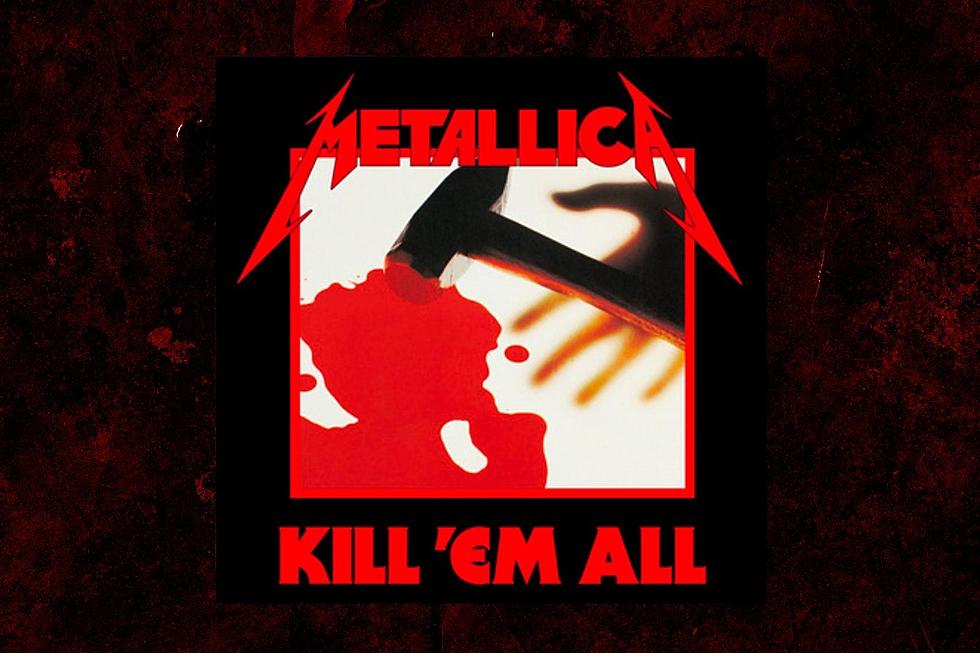 Poll: Best 'Kill 'Em All' Song – Vote Now
Megaforce
Released on July 25, 1983, Metallica's Kill 'Em All was not an immediate commercial success. However, it did break new ground for the genre of thrash metal. Nearly 40 years later, Kill 'Em All has become a staple in metal fans' collections across the globe.
Dark, Thrashy, Perfect
Songs like "Hit the Lights" and "Whiplash" lay the groundwork for the ferocious thrash style of the album, while tracks like "Jump In the Fire" and "Phantom Lord" take it to a darker level than most bands dared to venture in the early '80s. Kill 'Em All is a perfect mixture of speedy thrash riffs and dark and terrifying lyrics; when mixed together, Metallica created an album that rocks hard from beginning to end.
Watch Metallica Perform "Seek & Destroy" Live in Buenos Aires
Eventually, Kill 'Em All received the success it deserved: In 1999, it was certified three-times Platinum after selling more than 3 million records. Produced by Paul Curcio and Jon Zazula in Rochester, N.Y., the album was originally released by Zazula's record label, Megaforce Records. Once the band signed with Elektra, they re-released it with two bonus tracks, covers of Diamond Head's "Am I Evil?" and Blitzkrieg's "Blitzkrieg."
The Legacy of Kill 'Em All
On June 8, 2013, Metallica pulled off a huge surprise for fans and concertgoers at their Orion Music + More festival in Michigan. Though they were scheduled to headline on June 9, they decided to perform on a smaller, side stage under the band name dehaan. In celebration of the impending 30th anniversary of Kill 'Em All, the thrash legends performed the record in its entirety at Belle Isle in Detroit, the first time they had done it in 29 years.
Watch Metallica Perform "Hit the Lights" and "Phantom Lord" Live in Detroit
In 2016, Metallica reissued Kill 'Em All in a massive box set, featuring several goodies for hardcore fans including a killer live show from 1984 in Paris, rough mixes and demos from Lars Ulrich's vault and some very old-school radio interviews with Ulrich, James Hetfield and Cliff Burton.
Today, Kill 'Em All remains a favorite of thrash and metal fans across the globe and it stands as an unforgettable blueprint for the early days of the genre and of Mighty Metallica.
If You Had to Pick...
Taking a look at the original release, what is your favorite track from Metallica's Kill 'Em All? Cast your vote below, then shoot us a message in the Ultimate Metallica app and let us know why you picked that song.
Some of Our Favorite Live Photos of James Hetfield
Covering nearly 20 years of performances, the below photos display why James Hetfield is one of the best frontmen in rock and roll.
Each shot shows his raw energy, intensity and overall fun spirit at Metallica's live shows. If a photo is worth a thousand words, we know these shots are worth thousands of Hetfield's growls.
Metallica: A Photo Timeline of Their Remarkable Career
More From Big Stack 103.9