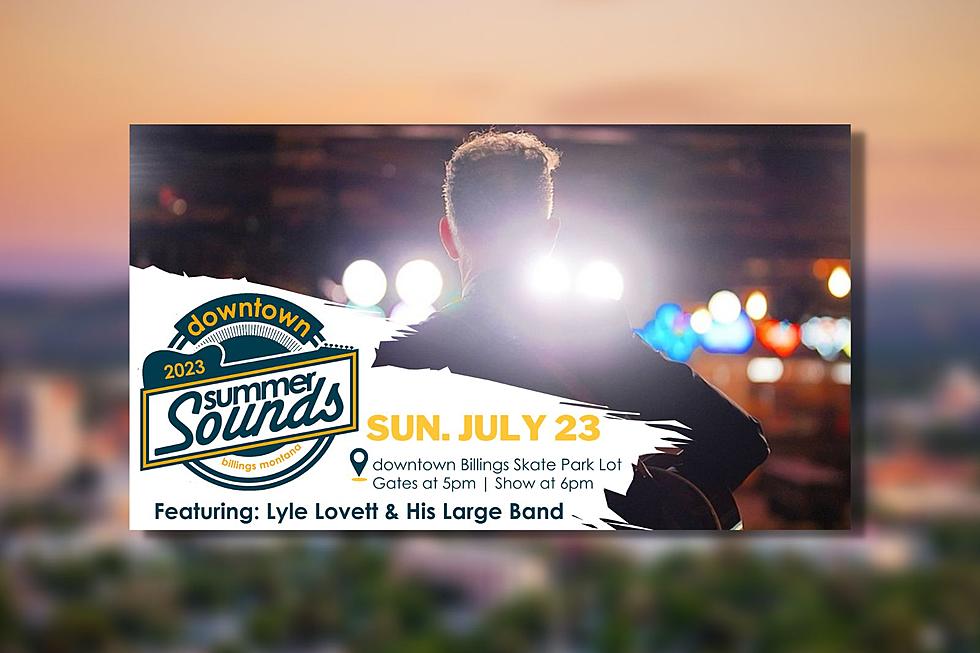 Downtown Billings Celebrating Summer With Headliner Lyle Lovett
Credit: Canva / Downtown Billings Alliance
Last week, Downtown Billings Alliance announced they are bringing Lyle Lovett and his Large Band to headline the Downtown Summer Sounds concert events! The headliner event is on July 23rd, a Sunday.
What Is The Downtown Summer Sounds Event?
Every year, the Downtown Billings Alliance hosts the Downtown Summer Sounds events, inviting all young and old to the ticketed outdoor event. It happens at the downtown Billings Skate Park parking lot, located at 24 S. 26th Street.
Downtown Summer Sounds is presented by the Downtown Billings Alliance and The Pub Station Presents teams.
When can I get the tickets?
Tickets are on sale now, as of Friday, April 7th, and you can buy them by using one of the links below.
Remember, downtown Billings events happen rain or shine. Tickets are $45 in advance, or $49.50 the day of the show. Plus, there are service fees when you buy online.
Does the money raised from Downtown Summer Sounds benefit our community?
Oh yes, it does. According to DBA, funds raised from the concert go toward downtown's Business Improvement District, helping fund street beautification projects like the downtown flower baskets, public art installations, and a number of large community events. Such events that have benefitted from this are the St. Patrick's Day Parade and Celtic Fair, Alive After 5, Strawberry Festival, Harvest Fest and the Holiday Parade.
About Lyle Lovett
The headlining artist Lyle Lovett, a singer, composer and actor, has broadened the definition of American music in a career that spans 14 albums. Coupled with his gift for storytelling, the Texas-based musician fuses elements of country, swing, jazz, folk, gospel, and blues in a convention-defying manner that breaks down barriers.
Learn more about the event, click here!
What are your thoughts? Do you attend the Downtown Summer Sounds events? Let us know in the App!
The Top 10 Best Lakes In Montana
See What We Think Are The Top 10 Best Lakes In Montana
5 School Lunch menu items from the 70s and 80s we wish we could find as adults
More From Big Stack 103.9