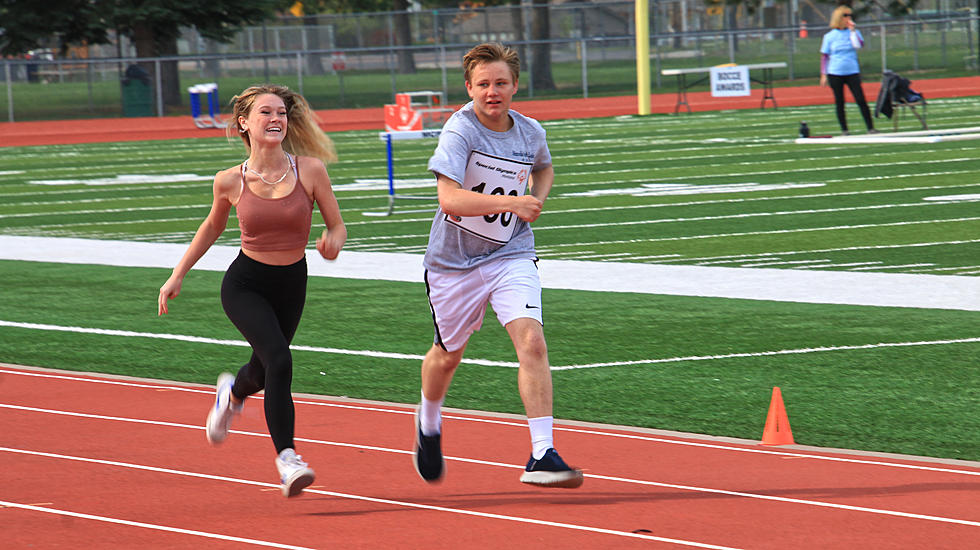 Special Olympians Shine in Missoula, Even When the Sun Doesn't
A Sentinel HS runner gets some pacing support; Dennis Bragg photo
The Missoula weather couldn't make up its mind Friday. But the Special Olympic athletes from all over West Central Montana decided to do their best and have a good time come clouds, sun, rain, or wind.
And it was the smiles, and a few tears of joy, that offset an unsettled weather day at the Missoula County Stadium at High Sky High School.
It was "back to normal" for the Five Valley Games this year, finally emerging from the COVID cloud which had sidelined competition for much of the past three years. Last year it was all about reunions, as the athletes, their teachers, parents, and friends gathered for the first time since the pandemic.
Last year the competition stopped here
To err on the side of caution in 2022, last year organizers didn't send the athletes on to the state games, opting instead to make the Missoula event the keystone event for the athletes here in the West.
However, that wasn't the case this time, as many of the athletes were already qualified and excited to be going to compete against their peers from across Montana in Bozeman two weeks from now.
During the Opening Ceremonies, Bill Merritt was honored as the Adult Volunteer of the Year for his work with the Polson athletes. He's since moved and is working with the Flathead Lake Buccaneers.
It was another fantastic day, and further proof of the applicability of the Special Olympics oath for all of us:
"Let me win. But if I cannot win, let me be brave in the attempt."
READ MORE: Bitterroot Winter Games Turn 40
Splash! Photos from the 2023 Polar Plunge in Missoula
It was a beautiful day for a dip and to support Special Olympics of Montana!