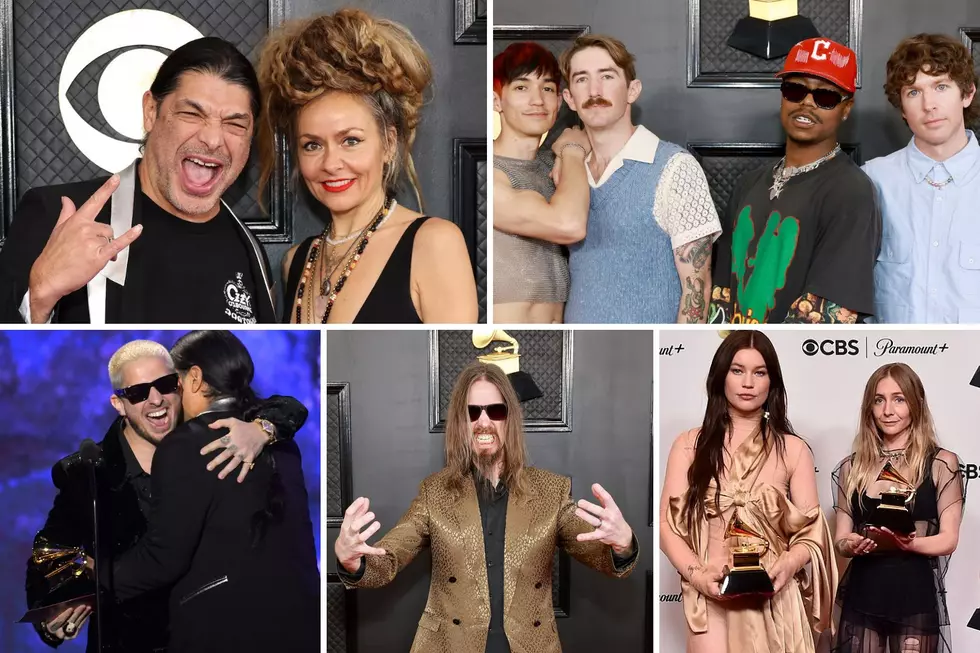 Photos – Rockers at the 2023 Grammy Awards (Robert Trujillo, Turnstile + More)
Amy Sussman, Getty Images / Matt Winkelmeyer, Getty Images / Kevork Djansezian, Stringer/Getty Images / Getty Images for The Recording Academy / Alberto E. Rodriguez, Getty Images
Here is a look at the rock and metal stars on the red carpet the 2023 Grammy Awards.
This is always one of the most fun parts about any awards show and when it comes to rock and metal at the Grammys in particular, it's always a bit of a wild card. Who will play nice, dress dapper and look the part? And who will show up looking like the defiant rebels that populate rock and metal? And which artists will choose to just skip going completely?!
The answers to some of those questions lie in the photo gallery below as this year's nominees arrive in anticipation of returning home with one of those iconic golden gramophone trophies.
Underneath a flashy black sport coat with a lightning bolt-like silver lapel, Metallica bassist (and guest on Ozzy Osbourne's Grammy-winning Patient Number 9) Rob Trujillo rocked a tasteful Ozzy shirt that had a logo placed over the heart. Elsewhere in metal, Megadeth drummer Dirk Verbeuren was spotted on the red carpet in a light brown leopard print coat, which could be in the running for best rocker outfit this year.
Both Turnstile and The War on Drugs had quite the pop of color, while indie outfit Wet Leg (who earned two alternative music category wins) were draped in a pair of unique dresses.
See photos of rockers at this year's Grammy Awards below. Beneath those, you can also view some of the most memorable rock star looks in awards show history.
Head to the Grammys website for information on how to watch the events.
Rock + Metal Stars at the 2023 Grammy Awards — Red Carpet, Award Acceptances + More
Check out the style and fun of the 2023 Grammy Weekend
The Most Memorable Rock Star Red Carpet Awards Show Looks
You'll never forget these looks rock stars rocked on the red carpet at awards shows. Here's a list of the most memorable rock star red carpet awards show looks.
More From Big Stack 103.9