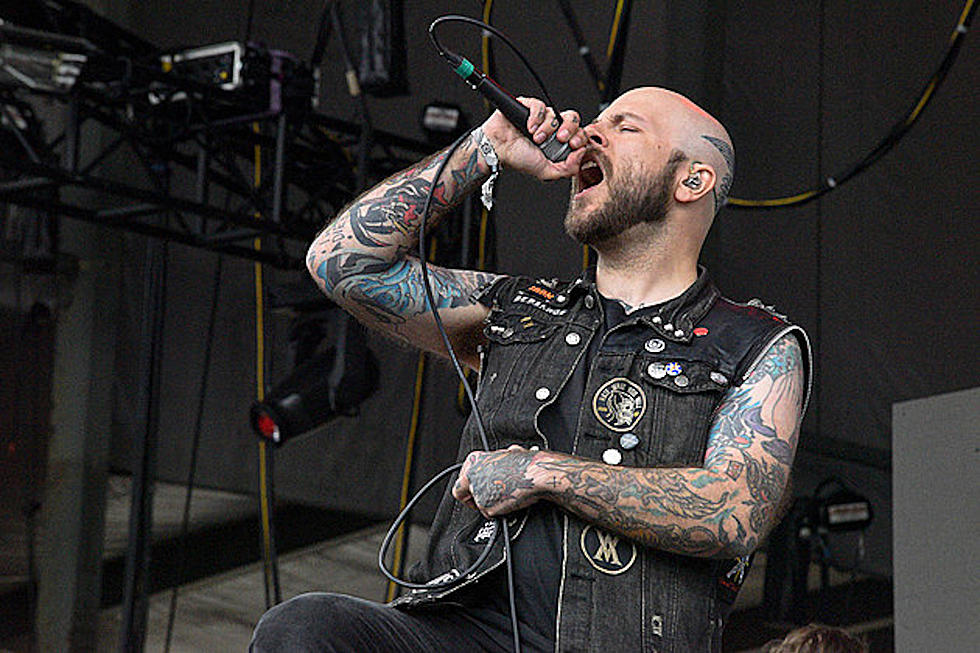 Demon Hunter's Ryan Clark Thinks Band Has 'Courteous' Fans Regardless of Their Religious Views
Evill Robb Photography, Loudwire
Demon Hunter vocalist Ryan Clark was the latest guest on Full Metal Jackie's weekend radio program, chatting about the group's latest album, Exile, as well as its companion comic book, notable guest appearances on the record and the group's fans as a Christian metal band.
The album is conceptual, centered around the evils of social media, something Clark considers a "necessary evil" and to be a "devil" that all bands must partake in whether they like it or not. For Exile, Demon Hunter also recruited a number of special contributors and one musician was even given the chance to sing the chorus as it was right at the top of Clark's vocal register.
The frontman also tackled the bulk of the writing for Demon Hunter's comic book, something he didn't anticipate at first but felt was necessary as he tends to be a self-described control freak.
Elsewhere, he comments on the band's fan base and doesn't exactly thing their courteous and friendly nature is directly correlated to them being a Christian band, but that they're a welcoming bunch regardless of their religious views.
Read the full interview below.
Exile is not only a concept album, but it also features some high profile guest performances. What were outside musicians able to do to better tell the Exile story?
We've had guests in the past and it's something we like to dabble with every few records. We try not to lean on it as a crutch too hard or too often, but it's always this kind of pinch myself moment. Max Cavalera is one my teenage self is flipping out that we had him sing. When I wrote that song, I was thinking, "Gosh, this is so Sepultura influenced." I heard his voice on it immediately and that was prior to even having any ideas about any guest appearances.
That one happened naturally. It was just sort of in the ether and when I wrote that main riff, mouthed into the recording on my phone, "Max has got to be on that song."
I didn't know if it would be possible, but we reached out and it just all worked out. It was perfect.
Demon Hunter, "Defense Mechanism" ft. Max Cavalera
In terms of Tom Englund from Evergrey, we went to record that song and I knew I wanted his voice on that song if he would do it. I've been a huge fan of Evergrey for a long time, especially their newer material. He's got such an amazing, soulful, powerful voice. That chorus was actually right at the top of my range and it just wasn't quite hitting the way that it should have in the studio.
It was a bold move to have a guest do the full chorus instead of me (instead of a pre-chorus or a bridge or a verse or whatever), but I knew he would kill this chorus. He nailed it and it's way better than my takes were.
The way that [Judas Priest guitarist] Richie Faulkner worked out was very natural. Jeremiah, our guitar player, ended up building his studio out in Tennessee and he has become friends with Richie over the years. So, that's just by virtue of those guys hanging out and becoming good friends. He asked Richie if he wanted to play guitar on a song and it was just as easy as that.
It wasn't extremely premeditated — the time and place was perfect. It had been a few records since we had done any guest spots, so that's how it worked out.
There's a comic book companion to Exile. How is scripting visual storytelling similar and altogether different to writing lyrics?
It was my first venture into something long form like that. I do in particular really love writing short form.
Being a graphic designer, I'm always kind of coming up with copy, whether it's for advertisements or for branding purposes and things like that. I moonlight as a copywriter and I had never done anything quite this. It necessitated such heavy note-taking and research. It was a really fun exercise. I didn't think that I was going to be the one to write it. I thought I would probably be the one to have the overarching concept and the story and then we would hire someone to write it.
The closer that we got to actualizing it and putting the pieces together, the more I realized that I was just going to be a control freak about the story, just like I am with everything else with music. So, I just dove in head first and it was actually a lot of fun.
The cool thing about about writing fiction is that you can kind of go anywhere with it. It really has a similar feeling to writing music in terms of the fulfillment of landing a part where you don't really know how it's gonna end up and [it all] comes together. There's things you maybe didn't think were going to work and you find a place for them that is really sensible.
I lost a lot of a lot of things that I wanted to have in there because you need to really trim the fat in order to make a really concise story.
It was very fulfilling and I would love to dive into that a little bit more and kind that muscle. It was fun to write and rewrite it to help hone it and then watch it come to life with artist Brent McKee and the colorist. Everyone that's working on it has just made it a super fun endeavor.
Demon Hunter is an unabashed Christian band that also appeals to a secular audience. What's most unexpected about the way the two groups interact with one another?
Our fans at our shows, whether they are believers like us or not, are very courteous.
It doesn't really matter which side of the coin you are on — I've always looked at our audiences, especially when we sort of play our shows as opposed to festivals and things like that, and it's pretty amazing to watch our fans interact and see how things shake down at a Demon Hunter show because everyone just gets along really well.
Just from going to other metal shows, I see how like your standard metal crowd acts and interacts and things like that.
Everyone's really courteous to any sort of bands that we take out. If we have band supporting, our fans are right up front and super emphatic. It's just a really, really cool thing to see everyone come together like that.
READ MORE: 10 Christian Hard Rock + Metal Bands That Absolutely Rage
The world has been in disarray these last few years. What role can music, and specifically Demon Hunter, play in facilitating a sense of unity?
The approach that we take with this album's concept being very anti-social media speaks to the internet at large in many ways. Social media is smack dab in the crosshairs for all of these songs. That is the starting point for us. Like it is for other bands, it's a necessary evil. It's the devil — you can't really be an active band and not deal with it to some degree these days.
But seeing how destructive social media is, especially for young people in these days... all of us all of us in the band except for Patrick have kids, so it's very top of mind for us regarding what social media is doing to kid, all of the pitfalls with the internet and all that kind of stuff.
The biggest message or takeaway that we can give people is to do what they can to disconnect, to get outside of it, find something else to do and to limit your time on your device or on social media. That's the start.
We just like to give people something positive to cling to. A lot of metal is either passive or, a lot of times, it can be kind of negative. We like to be on the flip side of that and give people something that really resonates with them and to find people on their level — a very human level. No matter who you are, no matter what you believe, give them something that they can grasp and let people know that they're not alone.
The next leg of your tour takes you to places that haven't seen Demon Hunter for a while. What do you miss most about some place when it's not on the itinerary?
Friends, for one. We have friends all over and we love running into people when we're on the road and catching up. Whenever there's a spot that has some old friends that we don't hit, it's kind of a bummer in that regard.
There are some restaurants we like going to and some places we like to hang out and so that's definitely up there as well. We're doing our best to hit all of those spots that feel necessary or at least close enough to most people so everyone can get out there. The one area that we've kind of done a poor job of hitting and we've neglected for a while is the northeast [in the United States]. We're eyeballing that for potentially another leg and we're just doing everything we can to fill the rest of the states in the meantime.
Thanks to Ryan Clark for the interview. Get your copy of Demon Hunter's 'Exile' here and follow the band on Facebook, Twitter, Instagram and Spotify.
10 Christian Hard Rock + Metal Bands That Absolutely Rage