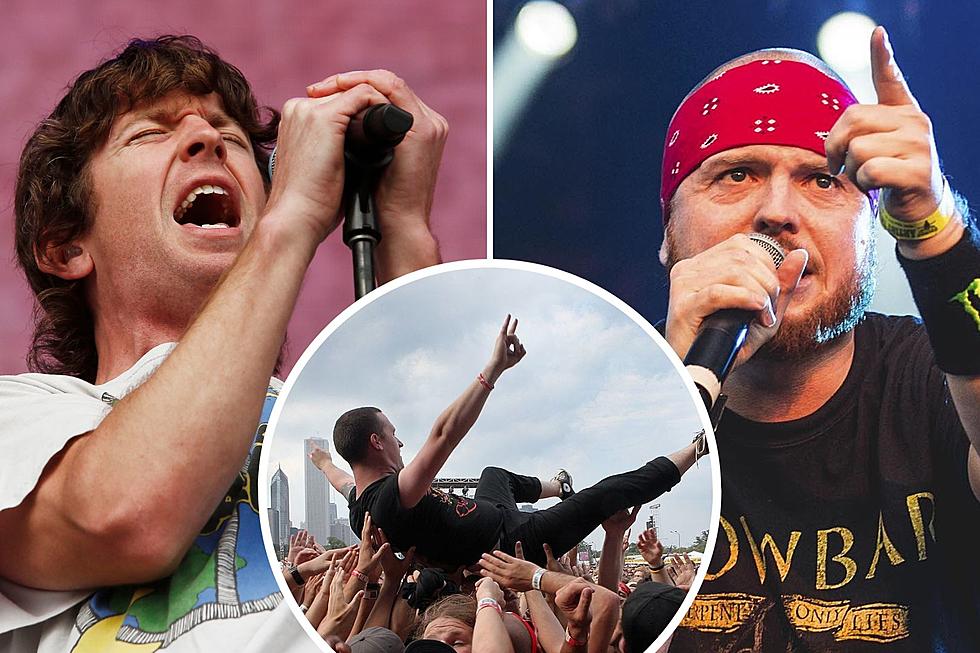 Furnace Fest Unveils Full 2023 Lineup – Turnstile, Hatebreed + 85 More Bands
Marcelo Hernandez, Stringer/Getty Images / Gina Wetzler, Getty Images / Roger Kisby, Getty Images
Start wrapping your knuckles now because Furnace Fest has just unveiled its 87-band lineup, with MXPX, Turnstile, Bane and Pennywise featured as the top-most billed acts for the three-day event.
Originally running annually from 2000 through 2003, Furnace Fest made its return in 2021 and hasn't missed a year yet with the 2023 installment bearing another highly attractive lineup for fans of punk, hardcore, metalcore and the like. Other high-profile names include Hatebreed, Norma Jean, Thursday, Saosin, Between the Buried and Me, Bouncing Souls and so many others.
This year's fest will be held from Sept. 22 through 24 at the Sloss Furnaces National Historic Landmark in Birmingham, Alabama and tickets are on sale now at this location. Festivalgoers can choose from a multitude of options, with three-day and two-day (Saturday and Sunday) packages available as well as single day and VIP passes.
See each daily lineup directly below and visit the Furnace Fest website for more details — FAQ, hotel discounts, how to become a sponsor or vendor, and more.
Furnace Fest 2023 Daily Lineups
Friday:
MXPX
Hatebreed
Anberlin
Relient K
Alcoa
Gideon
Holy Wars
Hopesfall
Kid Liberty
Knuckle Puck
Made Aware
Ninety Pound Wuss
No Cure
No Trigger
Norma Jean
Open Hand
Orthodox
Piebald
Project 86
Showbread
Slow Pulse
Sparta
Taylor Acorn
Walls of Jericho
With Blood Comes Cleansing
Whitsett
With Honor
Vein.FM
Saturday:
Turnstile
Head Automatica
Thursday
Saosin
Enter Shikari
Anxious
Becoming The Archetype
The Bronx
Drain
Extol
Foreign Hands
Gorilla Biscuits
Grand Champ
High Vis
Holyname
Living Sacrifice
Loathe
Mindforce
Narrow Head
The Pink Spiders
Scowl
Teenage Wrist
Terror
Training For Utopia
Trash Talk
Wielded Steel
Will Haven
Youth Of Today
Zao
Zulu
Sunday:

Bane
Pennywise
Haste The Day
Between The Buried & Me
Bouncing Souls
A Plea For Purging
Armor For Sleep
As Cities Burn
Blessed By A Broken Heart
The Callous Daoboys
Casey
Chasing Victory
Defeater
Further Seems Forever
Ghoti Hook
Gutter
Inclination
The Insyderz
It Dies Today
Judge
Mae
Militarie Gun
One King Down
Prayer For Cleansing
Qualifier
Strife
Taking Meds
Trenches
Valleyheart
2023 Rock + Metal Music Festival Guide
See what big rock and metal festivals are coming up in 2023!