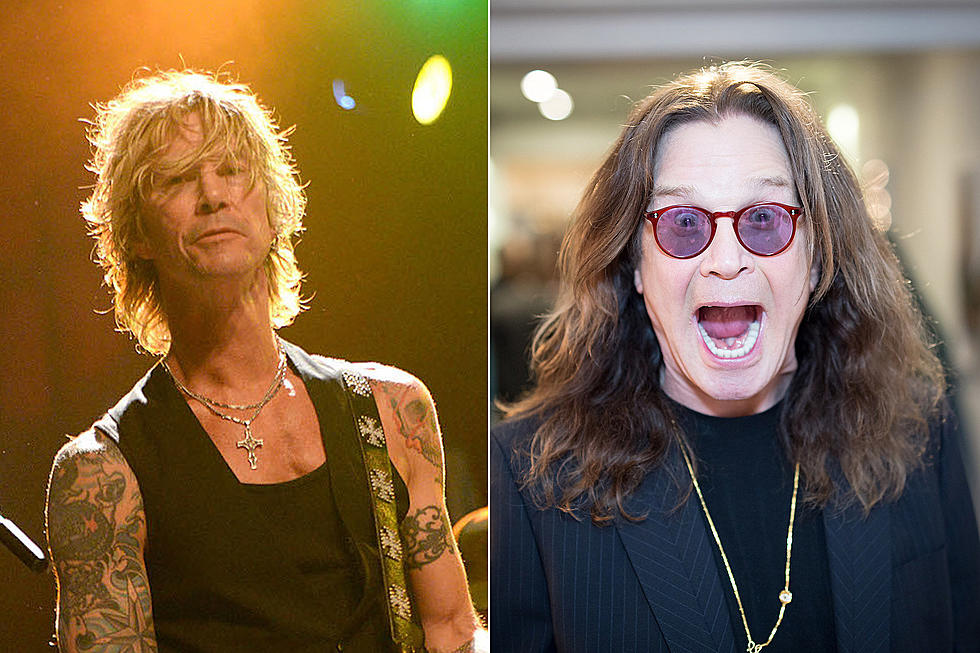 Guns N' Roses' Duff McKagan Shares Photo of New Ozzy Osbourne Tattoo
Scott Dudelson/Getty Images / Greg Doherty, Getty Images
There aren't many ways you can show your loyalty to your favorite musician more than getting a tattoo in their honor. Guns N' Roses bassist Duff McKagan is no stranger to tattoos, but he recently got one to commemorate the one and only Ozzy Osbourne, and shared a photo of the new ink on his social media.
According to McKagan's post, tattoo artist Franjo Pavlovic, who owns Pavlo Ink Tattoo in Leverkusen, Germany, did the tattoo for the rocker. Guns N' Roses are currently on tour in Europe, so the tattoo shop must have been a pit stop for McKagan. And apparently, he's wanted a Prince of Darkness tattoo for a long time.
"I FINALLY got my Ozzy Osbourne tattoo! Thank you," the bassist wrote in the caption of his post, which shows a small bat on his hand.
"Thank you for your trust," Pavlovic wrote in a post of his own with the musician. "Little nice bat."
See both posts below.
McKagan collaborated with Osbourne on his last two records, 2020's Ordinary Man and 2022's Patient Number 9. He played bass and co-wrote some of the tracks on both records. Both Guns N' Roses and Osbourne were also set to perform at the Power Trip festival this coming October, but Osbourne recently announced that he was backing out because of his ongoing health struggles.
The bat actually isn't the only tattoo McKagan had done since Guns' 2023 European tour commenced in June. He also had a quote written on the side of his arm, which reads, "Like fugitives from some great fire at the earth's end," and has author Cormac McCarthy's name underneath. The writer died on June 13 of this year, and the quote is from his 1985 novel Blood Meridian, or, the Evening Redness in the West. The tattoo was done by Danielle Mawby at London's Modern Classic Tattoo.
READ MORE: 40 Worst Rock Tattoos of All Time
"Those of you who already might read me over at the Seattle Weekly know by now that I am a big fan of the prose and rhythm of Mr. McCarthy," McKagan wrote in ESPN in 20112. "Blood Meridian takes the reader through a relentless and bloody campaign of revenge between a Mexican army-U.S. cavalry mashup of figures, and the Comanche band they are after. This is a book for men!"
20 Rock + Metal Musicians With Tattoos of Bands
These musicians have tattoos of other musicians.
More From Big Stack 103.9