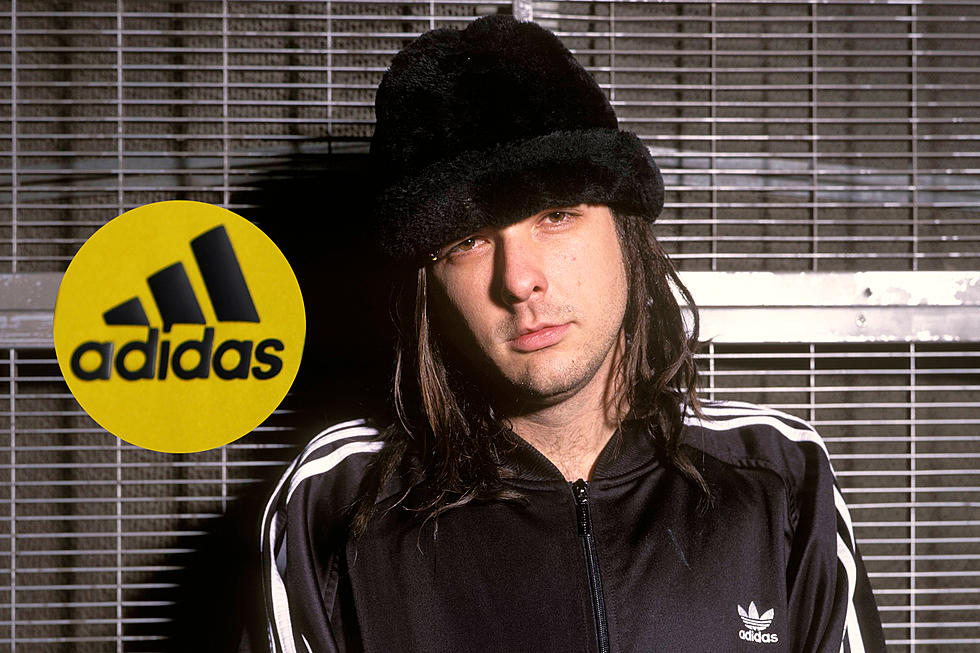 Finally, A Korn Collaboration With Adidas Is in the Works
Mick Hutson/Redferns / Hagen Hopkins, Getty Images
If you ever thought that shoe company Adidas not partnering up with Korn on their song "A.D.I.D.A.S." was a missed opportunity, well, it looks like it's about to finally pay off. Per Complex, who obtained an internal Adidas document, a Korn / Adidas collab will happen this October.
As revealed in the report, the collaboration will actually consist of two sneakers - the Campus 00s and the Supermodified - along with seven pieces of apparel, meaning longtime lovers of the band and the brand will have plenty of opportunity to sport the cross-pollenated swag.
There had actually been rumors of a collaboration dating back to February when Kicks Finder reported on a rumored pairing between the band and the shoe company.
Korn's Past History With Adidas
Adidas, the shoe brand, had been around for quite some time before Korn ever issued their song "A.D.I.D.A.S" back in 1997. The track was featured on the band's Life Is Peachy album, with "A.D.I.D.A.S." actually serving as an acronym for "all day I dream about sex." The title was apparently a long-running in-joke for singer Jonathan Davis dating back to his days working in a sportswear shop.
During the mid-'90s, Korn's members often were spotted wearing Adidas T-shirts and track suits. So you would think that with a penchant for already rocking the Adidas gear paired with naming a song that indirectly hyped the brand that a synergistic relationship might occur.
But, as Davis revealed in a 2021 article with Kerrang, all that came of it was some free product, though Adidas balked at signing a financial deal with the group. That led Korn to change their brand loyalty to Puma when the shoe company came calling in 1998.
"We switched to Puma because they told us they'd put us in a commercial and give us a little money to wear their shit," explained the singer.
READ MORE: 66 Best Rock Songs of the '90s
What Is Known About Korn's New Collaboration With Adidas
Per the Complex report, the collaboration with the shoe giant will arrive in October, though it's possible the apparel part of the pairing could be moved to a later date in spring 2024.
The Korn X Adidas Campus 00s will reportedly retail for $130, while the Adidas Supermodified will go for $140. Both shoes will feature the band's logo on the right tongue, with guitar pick keychains and artwork from Korn's Life Is Peachy album on the insoles. The shoes show in leaked photos on the Complex site are samples, and could differ from the final versions.
As for the apparel, it's expected to include two T-shirts that will go for $50 and $60, plus a black and white Korn logo hoodie that will retail for $120. There will also be two tracksuits - one with sequins for $120 for the pants and $180 for the top and the other in black and white with $100 for the top and $80 for the pants.
The 64 Songs Korn Have Never Played Live
Korn have never played these songs live.