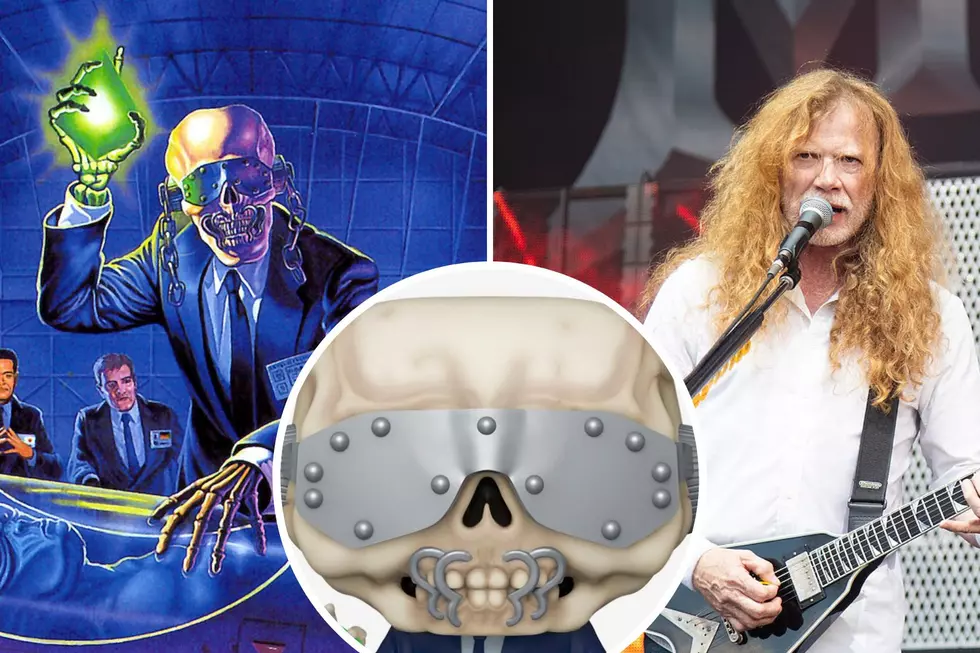 Megadeth Mascot Vic Rattlehead Finally Has a Funko Pop! Figure
Capitol / Joseph Okpako, WireImage/Getty Images / Funko Pop!
It's about damn time Megadeth mascot Vic Rattlehead was honored with its own Funko Pop! figure and the newly announced collectible is a representation of the thrash legends' Rust in Peace album cover.
The Ed Repka artwork is one of the most iconic pieces in heavy metal, adorning a revolutionary 1990 album that merged Megadeth's technical proficiency and ambitious songwriting with immediate hooks and thought-provoking lyrics. It's also the record where guitarist Marty Friedman and drummer Nick Menza entered the fold, fortifying the four-piece lineup through the late '90s.
What this all says is that Rust in Peace is the natural starting point to welcome Vic Rattlehead and Megadeth to the ever-growing pile of rock and metal-centric Funko Pop! figures.
Vic will sit comfortably on your shelf at home next to a wealth of Iron Maiden Eddie collectibles (if you've already snatched those up), representing some of metal's most legendary mascots.
Pre-orders for the new Vic Rattlehead figure can be placed at the Funko website or through Hot Topic, the latter of which notes that orders are slated to ship between Feb. 14 and Feb. 25.
And speaking of the Rust in Peace era, keep your eyes peeled for a potential onstage appearance from Friedman, who teased earlier this month that he intends to join Megadeth at their upcoming concert in Tokyo, Japan.
"And you might be aware that Megadeth, the band I used to play in, will play live at Budokan," Friedman shared, "Believe it or not, I'm gonna jam with them! Well, I can't tell you any details but it's gonna be a miraculously special night for sure. How do I put this? I think the fans will also enjoy it as much as I [will]. From behind the scenes, I've always rooted for them just like the guys in Megadeth have cheered for my career in Japan. So, this will really be an awesome reunion and my heart is really full of overflowing love. Anyway, I'm really looking forward to it."
The Top 25 Metal Mascots
We count down the larger than life figures that have stood as the face of so many metal bands.