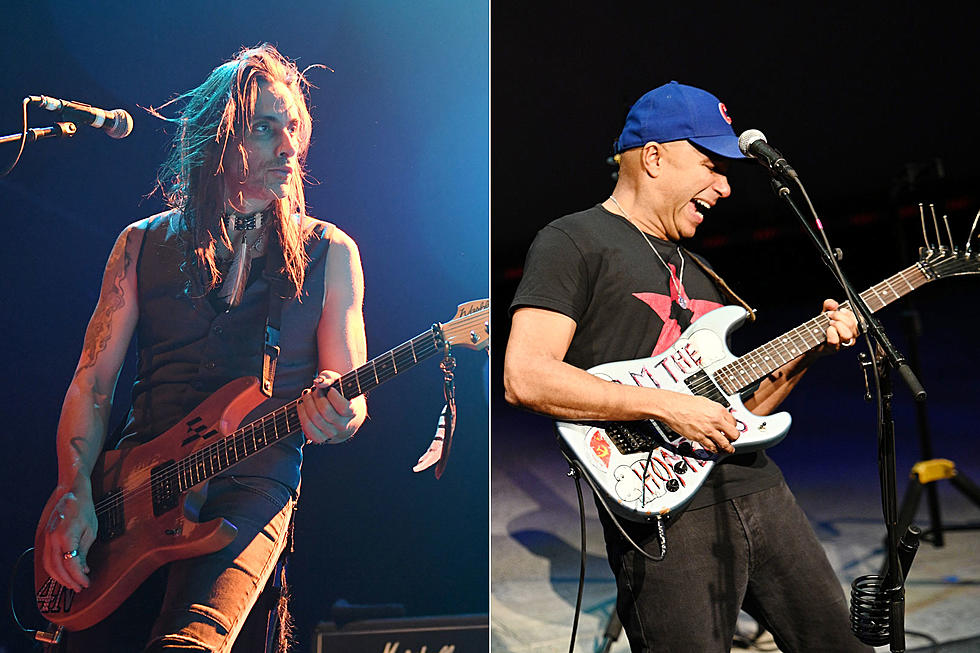 Nuno Bettencourt Shares What Is Underrated About Tom Morello's Guitar Playing
Ethan Miller / Bryan Bedder, Getty Images
Tom Morello recently had a chance to hop onstage with Extreme to perform Audioslave's "Cochise" during the Best of Blues and Rock Festival in Sao Paulo, Brazil, but beforehand, the guitarist shared a stage in a joint interview with guitarist Nuno Bettencourt from Extreme in which the musician shared his love for Morello's playing.
The two musicians had previously worked together, notably teaming up with Anthrax's Scott Ian back in 2019 to perform the Game of Thrones theme with the series show runner D.B. Weiss and composer Ramin Djwadi on Fender's custom Game of Thrones guitars. But, as Morello noted in the interview shared below by journalist Igor Miranda, this would be the first time he shared the stage with Bettencourt's band Extreme.
Amidst the conversation, talk turned to their admiration for one another. Bettencourt then recalled the first time he heard Rage Against the Machine, noting, "It's funny because when we heard Rage Against the Machine for the first time, we loved it so much that we hated them."
He continued, "We have this saying that Jimmy Page – and I said this to Jimmy Page, I thought Jimmy Page wrote all the great rock 'n' roll riffs and threw the rest of us all the scraps, the bones. And that was until I heard Rage Against the Machine. Every riff was monstrous; it was everything. And the fact that they had a rapper took it to a whole other level of genre and changed the game."
Bettencourt then offered a critique of Morello's playing, sharing what he feels is underrated when discussing how Morello approaches the guitar.
"Tom can actually play as well," the guitarist stated. "The thing about Tom that to me gets a little underrated – and pisses me off a little bit, because he tends to pull back and I want him to do this more; he did it more in the early days – you think that he's got one of the most iconic, inventive, innovative styles with electronics and making sounds and making it sound like a DJ, but then all of a sudden, he starts really playing playing… like, go fuck yourself, because he's a dangerous player that way."
As for Morello's response to the effusive praise, he countered in kind, noting, "It's because I practiced all the Nuno solos!"
The Rage guitarist added, "He's been a huge influence. Combining funky music with heavy music and then musicianship with abandon are things that have been involved in this band [Extreme] and I think in Nuno's playing from the very start."
Check out the discussion below, with footage of Morello's guest turn with Extreme on Audioslave's "Cochise."
Tom Morello Joins Extreme to Cover Audioslave's "Cochise" at 2023 Best of Blues and Rock Festival
These are exciting times for Extreme, who recently announced their first new album in 15 years. The Six album is due June 9, featuring the gritty new single "Rise" that features a top notch guitar solo that was written by Bettencourt on a day that Eddie Van Halen had paid a surprise visit. You can look for the band back out on tour in August. Get ticketing info here.
READ MORE: Nuno Bettencourt Says This Rock Icon Called Him a 'Top Three Guitarist'
While Rage Against the Machine's reunion tour got shut down early due to Zack de la Rocha's achilles tendon injury recovery, big things are happening for the band as they were selected for induction into the Rock and Roll Hall of Fame, which will take place later this year.
66 Best Hard Rock + Metal Guitarists of All-Time