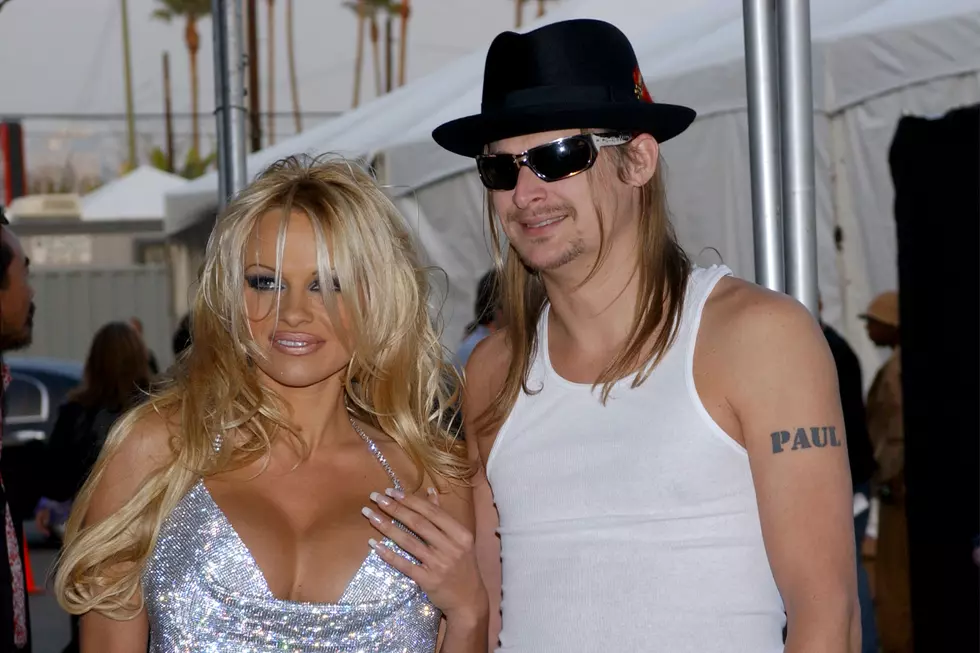 Pamela Anderson Reveals When She Knew Kid Rock Marriage Wouldn't Work Out
Vince Bucci, Getty Images
While the trials and tribulations of actress Pamela Anderson's marriage to Motley Crue rocker Tommy Lee became tabloid fodder and eventually source material for last year's Pam + Tommy movie, the former Baywatch actress was also briefly married to another rock star, Kid Rock. While making the rounds promoting her Love, Pamela memoir, Anderson told Howard Stern when she knew that the marriage with Rock was not going to work out.
"Right when I got married," Anderson stated on SiriusXM's Howard Stern Show (as seen below). "Well, just after. Obviously not in time. That's terrible, I know it's embarrassing."
The commentary on her short-lived four-month marriage to Rock was part of a bigger discussion about Anderson's romantic life, with the actress revealing that Tommy Lee was the true love of her life and that she made some errors in her love life following her split from the musician.
"I had two beautiful boys with him, so it was really kind of a heightened romantic beginning and that's every girl's fantasy is to be worshipped like that. And we worshipped each other, and had two beautiful boys," she told Stern of Lee.
"I don't think I ever gave myself a chance to have another relationship after that that was of any value," she then added. "You know, it was more like trying to put a family unit back together, but I wasn't really in love — I just was going through the motions and then realizing, 'I have nothing in common with this person.'I was putting people in my life to kind of numb some of the pain or be with someone. — companionship, but nothing … nothing healthy."
Speaking on some of her short-lived romances, she continued, "It's just a flaw, I don't know. Like, I just jump into something because, you know, Tommy and I did and we had this, you know, incredible connection. But then you jump into something and it's like, 'Oh it's not this incredible connection, it's this, just … something else.' Then I slowly try and find my way out."
After Lee and Rock, the actress twice wed poker player Rick Salomon, movie producer John Peters and her bodyguard Dan Hayhurst. But, as Anderson revealed in the Stern interview, she's spent the last year alone and feels she's gone through some growth and grown up a bit. "You have to be able to be alone too before you can be with somebody else," she explained. "So I just feel like I'm just growing up right now. It's taken a long time."
Anderson's new book, Love, Pamela, hits stores next Tuesday (Jan. 31).
Pamela Anderson Recalls to Howard Stern When She Knew Her Marriage to Kid Rock Wouldn't Last
Rock Stars Who Were Victims of Sex Tape Scandals
More From Big Stack 103.9