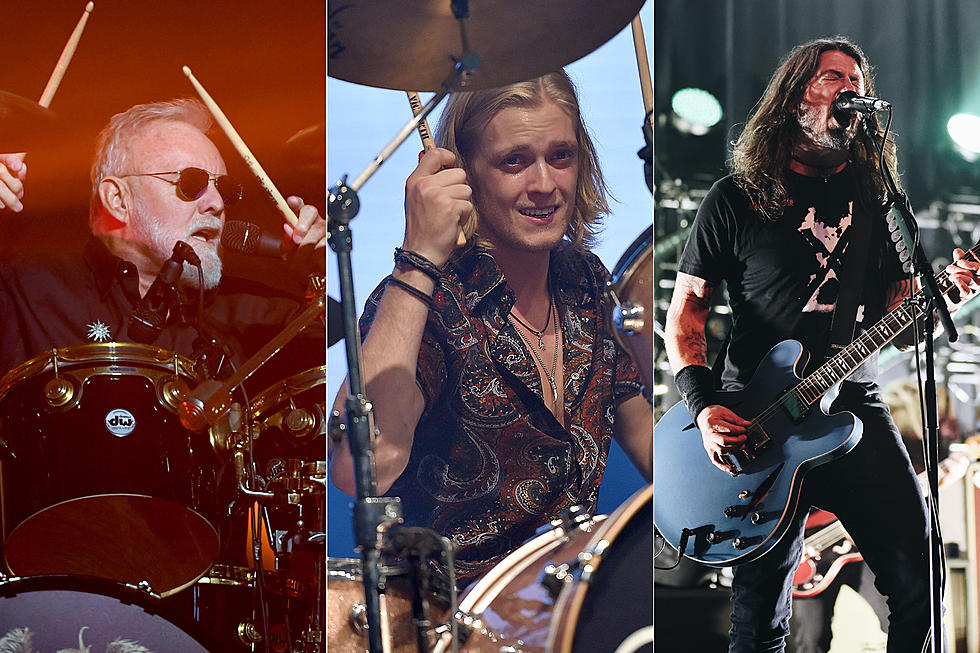 Queen's Roger Taylor Comments on Son Rufus Possibly Joining Foo Fighters
Ethan Miller / Mike Windle / Rich Fury, Getty Images
We're less than a month out from the return of Foo Fighters to the concert stage, and the band has yet to tip the identity of the drummer who will join them on tour. But that hasn't stopped the speculation with several names oft being mentioned as possibilities to fill the drum seat previously occupied by the late Taylor Hawkins. Among those most frequently mentioned as a possibility is The Darkness drummer Rufus "Tiger" Taylor, son of Queen's Roger Taylor.
The Queen drummer, who had a close friendship with Taylor Hawkins, was asked about the possibility of Rufus becoming the new Foo Fighters drummer, and he managed to sidestep giving an answer while offering plenty of platitudes.
Roger told BBC Radio 2 when asked if Rufus was joining the band, "Well, Rufus is phenomenal. He's turned into this scary, great drummer with The Darkness […] My son, he's just annoyingly powerful and he's become very, very good. I can't say any more!"
When further pressed about a possible stint with the Foos, Taylor then added, "Well, he does play brilliantly with them. He knows all their stuff, knows them all very well. He did play 'Best of You' with the Foos, and it was phenomenal at Wembley, and at The Forum in L.A. What exactly is happening now, I don't know."
READ MORE: Taylor Hawkins' Son Shane Wins Performance of the Year Drum Award
As stated, Roger Taylor was quite close with Taylor Hawkins, who was an avid Queen fan. Speaking about the death of Hawkins, Taylor added, "We're never going to forget him. I can't take him out of my phone." In April 2022, Roger Taylor was granted the Officer of the Order of the British Empire, he dedicated the honor to Hawkins.
Foo Fighters recently released a new single "Rescued," though it has not been revealed who played drums on the track. As stated, speculation has been rampant about who might fill the void on tour, with Pearl Jam's Matt Cameron and Against Me / Angels and Airwaves' Atom Willard among the names initially surfacing. Cameron later denied the report that he would be joining the band.
We'll find out who's playing drums when Foo Fighters hit the road next month. Get your tickets here.
12 Drummers Who Could Fill in for Foo Fighters' Taylor Hawkins
These drummers could fill in for Foo Fighters' Taylor Hawkins.