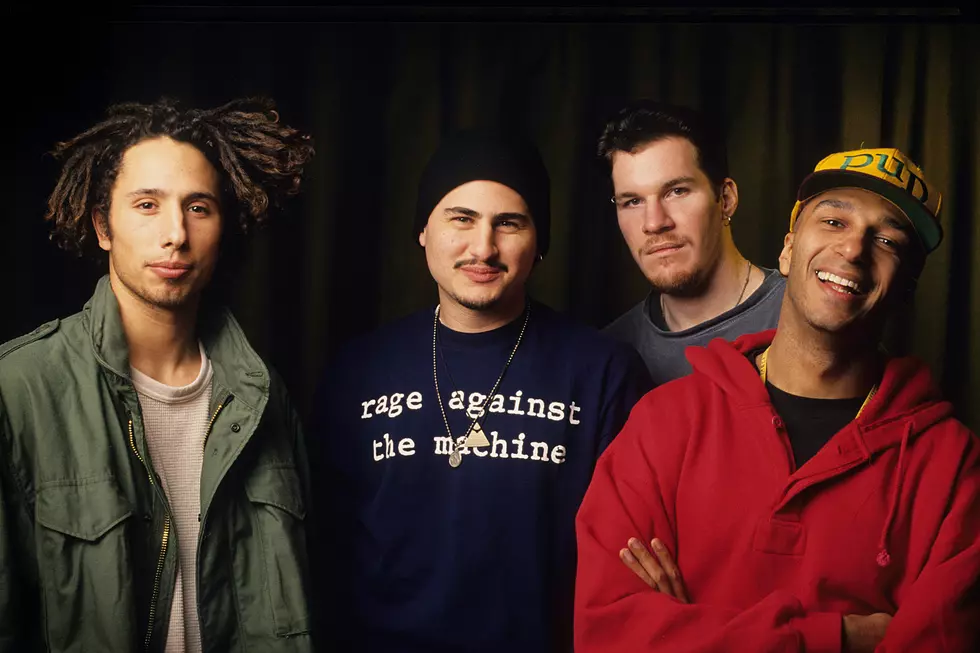 Rage Against the Machine Issue Statement on 2023 Rock Hall Induction
Gie Knaeps, Getty Images
It's right there in the name - Rage Against the Machine. So how does the foursome of Zack de la Rocha, Tom Morello, Tim Commerford and Brad Wilk feel about joining one of rock's most lauded institutions? The band has issued a statement after learning of their induction into the Rock and Roll Hall of Fame this morning.
Rage are part of the new 2023 induction class that will include Kate Bush, Sheryl Crow, Missy Elliott, the late George Michael, Willie Nelson and The Spinners. In addition, DJ Kool Herc and Link Wray are being inducted through the Musical Influence Award, Chaka Khan, Al Kooper and Bernie Taupin are all receiving the Musical Excellence Award and longtime Soul Train host Don Cornelius is going in through the Ahmet Ertegun Award.
This journey was not an automatic for Rage, who appeared on six previous Rock Hall ballots before receiving the Rock Hall call.  Now guaranteed entry later this year, the band issued a statement on their pending induction. It reads as follows:
It is a surprising trajectory for us to be welcomed into the Rock and Roll Hall of Fame. In 1991, four people in Los Angeles formed a musical group to stand where sound and solidarity intersect. We called ourselves Rage Against the Machine.

A band who is as well known for our albums as we are for our fierce opposition to the U.S. war machine, white supremacy and exploitation.

A band whose songs drove alternative radio to new heights while right wing media companies tried to purge every song we ever wrote from the airwaves.

A band who shut down the NY Stock Exchange for the first time in its history.

A band who was targeted by police organizations who attempted to ban us from sold out arenas for raising our voices to free Mumia Al Jamal, Leonard Peltier and other political prisoners.

A band who sued the U.S. State Department for their fascist practice of using our music to torture innocent men in Guantanamo Bay.

A band who wrote rebel songs in an abandoned, industrial warehouse in the valley that would later dethrone Simon Cowell's X Factor pop monopoly to occupy the number 1 spot on the U.K. charts and have the most downloaded song in U.K. history.

A band who funded and organized delegations to stand with Mexican rebel Zapatista communities to expose the Mexican government's war on indigenous people.

A band whose experimentation in fusing punk, rock and hip hop became a genre of its own.

Many thanks to the Hall of Fame for recognizing the music and the mission of Rage Against the Machine. We are grateful to all of the passionate fans, the man talented co-conspirators we've worked with and all the activists, organizers, rebels and revolutionaries past, present and future who have inspired our our art. - Brad, Tim, Tom and Zack.
READ MORE: Fans React to the 2023 Rock and Roll Hall of Fame Induction Announcement
Rage Against the Machine will officially be inducted into the Rock and Roll Hall of Fame in Brooklyn during a ceremony at the Barclays Center on Nov. 3. Congrats!
43 Hard Rock + Metal Acts Who Deserve to Be in the Rock and Roll Hall of Fame
More From Big Stack 103.9