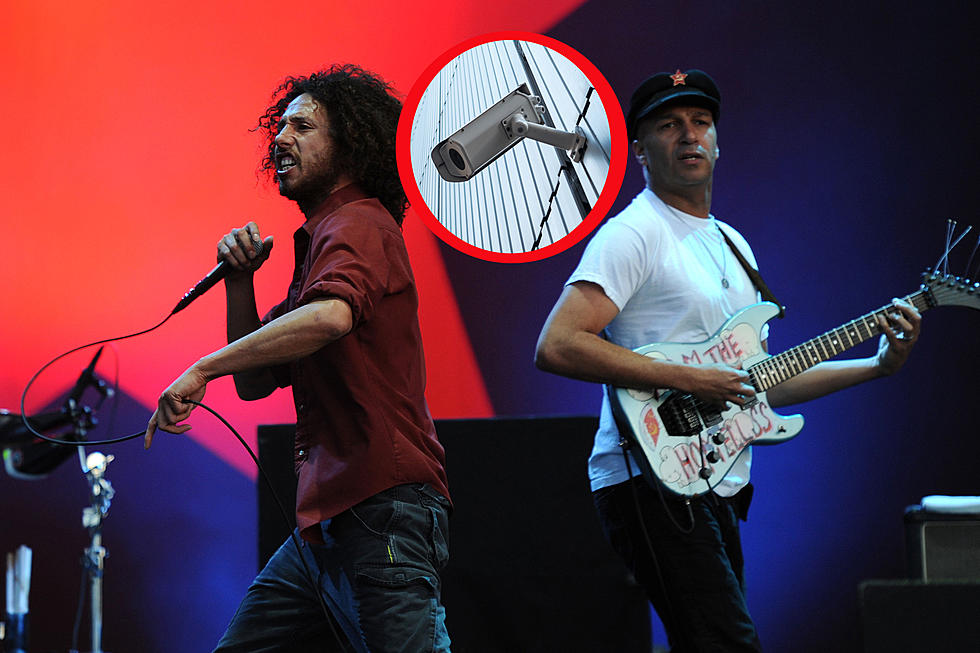 Tom Morello, Zack de la Rocha Lead Over 100 Acts in Boycotting Venues Using Facial Recognition Technology
Brian Rasic, Getty Images / Getty Images
Rage Against the Machine members Tom Morello and Zack de la Rocha are among the over 100 artists who have lent their backing to a boycott of venues that are employing facial recognition technology, sharing that they feel the tech being implemented at these venues infringes upon the privacy of the concert-going public and has also shown discrimination towards certain individuals and an alarming rate of inaccuracy.
If this sounds familiar, it's because Morello was among the musicians who first raised concerns about the facial recognition technology at concert venues back in 2019, when he joined with fellow musicians in lending their support to Fight for the Future's awareness campaign calling out the dangers of implementing this technology at shows. The guitarist also co-authored a Buzzfeed News op-ed that laid out some of the key talking points, with the campaign initially making a dent in getting major music festival events to back off the idea of implementing the tech and Ticketmaster to distance themselves from one of the tech companies.
But time has passed and the implementation of facial recognition technology at concert venues has not been dissuaded, so the Fight for the Future digital rights advocacy group has stepped up their efforts, now calling on artists, venues and fans to call for a boycott of those using the technology.
An online petition is circulating, detailing some of the dangers while also providing the wording for artists, venues and fans to join the boycott. In addition to Morello and de la Rocha, other artists that have signed on include Morello's Street Sweeper Social Club cohort Boots Riley, Wheatus, Jill Sobule, Anti-Flag, Deerhoof, Bedouine, Yacht, Speedy Ortiz, War on Women and over 100 acts in total. The petition also features 25 music venues that have vowed to keep the facial recognition tech out of their entertainments spaces as well.
Why Is a Boycott Being Called For?
Per the petition, there are four main reasons that people should be concerned about the usage of the facial recognition tech. They include:
- It exacerbates discrimination. The petition alleges that "facial recognition enables stores, businesses, and law enforcement to track and target specific individuals and communities with absolutely no oversight or accountability. Given existing structures of discrimination that shape society and institutions like the police, we know that advanced surveillance tools like facial recognition will only fuel existing harms against communities of color and marginalized groups," they add.
- It chills free speech. The petition notes that police have already used facial recognition to identify and target people in Black Lives Matter demonstrations. This violates protesters' rights and fundamentally threatens democracy by making people too afraid to participate in social movements. The use of facial recognition by business owners will have similar chilling effects – for example, by discouraging employees filing sexual harassment or racial discrimination complaints.
- It's not secure. The petition suggests that once our biometric information is collected and stored in databases, it's an easy target for identity thieves or state-sponsored hackers. Successful attacks have already happened, and the petition predicts this will only grow more commonplace as government and private use of this technology expands.
- It doesn't work. The petition claims that facial recognition programs identify the wrong person up to 98 percent of the time. These errors have real-world impacts, including harassment, wrongful imprisonment, and deportation.
The petition adds, "A recent study by Georgetown University's Center on Privacy and Technology found that "face recognition doesn't work well enough to reliably serve the purposes for which law enforcement agencies themselves want to use it." Because the tech constantly misidentifies people, they add that it actually puts people in danger of bodily and psychological harm (through false arrests and police violence) and does nothing to keep people safe.
While the boycott may impact venue decisions concerning using the tech, the petition also states that ultimately they also need lawmakers to get involved to protect the concert-going audiences from facial recognition technology. They note, federally, lawmakers have introduced the Facial Recognition and Biometric Technology Moratorium Act which would protect people across the U.S. from government and law enforcement use, but there hasn't been a federal bill to address how private companies use the technology, so continued vigilant pressure on the issue remains of vital importance
READ MORE: 10 Unforgettable Rage Against the Machine Moments
What Are the Pledges?
The artist pledge per the petition states, "We want everyone to feel safe and welcome at shows, so we commit to not allow venues to use invasive surveillance tech like facial recognition at shows we play by updating our rider to require this or boycotting venues that won't accommodate this request."
The venue pledge adds, "We want everyone to feel safe and welcome at shows, so we commit to not use invasive surveillance tech like facial recognition at our venue."
Fans are also allowed to sign the pledge with a desire to "hold venues and artists accountable" for playing shows at places that employ facial recognition technology by boycotting such shows.
Read more about the petition and sign up via the fan pledge if you feel moved to do so at this location.
Active Bands That Haven't Released an Album in 5 Years
These bands haven't released an album in five years.
More From Big Stack 103.9