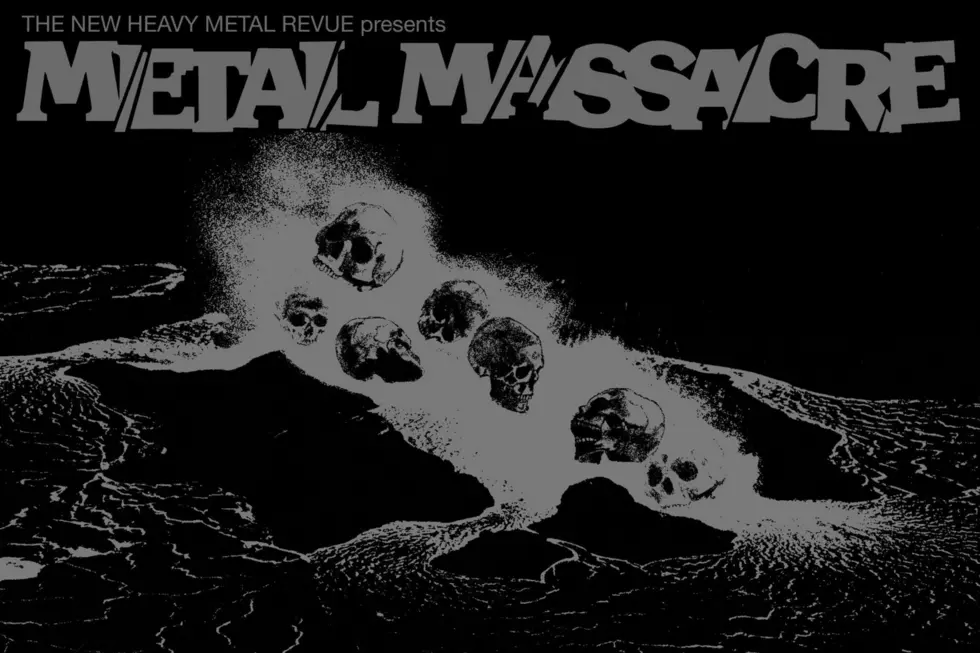 The Legacy of 'Metal Massacre,' 40 Years Later
Metal Blade
On June 14, 1982, Metal Blade Records, a brand new record label founded by Brian Slagel, released its first compilation known simply as Metal Massacre. Featured on the first pressing of this compilation were bands like Steeler, Ratt, Malice and a little known, unsigned metal band called Metallica.
Hit Those Lights
Rounding out the compilation, Metallica—spelled incorrectly as Mettallica—recorded "Hit the Lights." On the first pressing of Metal Massacre, "Hit the Lights" featured James Hetfield, Lars Ulrich, Lloyd Grant and Dave Mustaine. Hetfield played rhythm guitar and bass while also handling vocal duties and Grant and Mustaine both focused on lead guitar.
Two years later, Metal Blade released the second pressing of Metal Massacre, this time with a newly recorded version of "Hit the Lights," but it was still featured as the final track on the compilation. With Ulrich still behind the drum kit, Hetfield focused on rhythm guitar and vocals while Mustaine handled lead guitar duties and Ron McGovney took care of the bass. This second version was 13 seconds shorter than the version on the first pressing. Also, on the second pressing, Metal Blade corrected the spelling of Metallica's name with only one 't.'
Metal Massacre was produced by Slagel and John Komarens and was mastered by Joe Borja at The Bijou in Hollywood, California. It marked the first of 15 Metal Massacre compilations. Metallica would not be on any other Metal Massacre, although later in 1982 when Metal Massacre II was released, the late bassist Cliff Burton recorded "Such a Shame" with his band Trauma.
The Massacre Legacy
Forty years later and it's easy to see the impact Metal Blade had on Metallica's success. Without Metal Massacre, who knows how long it would've taken for Metallica to break out? According to Metal Blade's official website, Hetfield gives the label credit for shedding light on Metallica.
How important is Metal Blade to our career? They're only the reason we are enjoying the worldwide success we have today.
Imagine if Slagel received the demo of "Hit the Lights" from Metallica and said, "Eh, I think I'll pass." Sure, Metallica were a good enough band at the time that they would've made a big splash somewhere and sometime, but without Metal Blade, the band would have never hooked up with Jonny Z at Megaforce Records to record Kill 'Em All, released 13 months after Metal Massacre dropped. Metallica's first studio album included "Hit the Lights" as the opening track.
Thanks to the success of Metal Massacre, Slagel was able to build a heavy metal record label juggernaut. Thirty years into it, he celebrated the significant milestone on Sept. 25, 2012, in New York City at Santos Party House with As I Lay Dying and Battlecross, partying with fans and industry professionals who were all there to show their support for Metal Blade. For Metal Blade's 40th anniversary, Slagel""v", including a clear pressing from Metallica.com and a ruby red pressing from Metal Blade's webstore.
June 14, 1982 is a day that will forever be etched in the rock 'n' roll history books. Every Metallica fan owes a big thanks to Slagel and Metal Blade for giving a group of—as Hetfield puts it—"raunchy teens with a crap sounding cassette tape" a chance.
'Metal Massacre' Track Listing (First pressing)
1. "Cold Day in Hell" - Steeler
2. "Live for the Whip" - Bitch
3. "Captive of Light" - Malice
4. "Tell the World" - Ratt
5. "Octave" - Avatar
6. "Death of the Sun" - Cirith Ungol
7. "Dead of the Night" - Demon Flight
8. "Fighting Backwards" - Pandemonium
9. "Kick You Down" - Malice
10. "Hit the Lights'" - Metallica (Spelled incorrectly as Mettallica)
'Metal Massacre' Track Listing (Second pressing)
1. "Chains Around Heaven" - Black 'n Blue
2. "Live for the Whip" - Bitch
3. "Captive of Light" - Malice
4. "Octave" - Avatar
5. "Death of the Sun" - Cirith Ungol
6. 'Dead of the Night" - Demon Flight
7. "Fighting Backwards" - Pandemonium
8. "Kick You Down" - Malice
9. "Hit the Lights" - Metallica (Spelled correctly)
Listen to the First Pressing of Metallica's 'Hit the Lights' from 'Metal Massacre'
Here Are Some of Our Favorite Metallica T-Shirts
Metallica have not only created some of the best heavy metal in the last 40 years, they've also created some of the most iconic T-shirts. In the last four decades, they've worked with incredible artists like Pushead, Brian Ewing and others to bring their songs and albums to life. In the gallery below, we've picked out some of our favorite T-shirts that are currently available at Metallica's official online store. Which one is your favorite?
Some of Our Favorite Live Photos of Lars Ulrich
As iconic as James Hetfield is, as much of a shredder as Kirk Hammett is and as crazy as Robert Trujillo is onstage, there might be no member more associated with Metallica than Lars Ulrich.
Afterall, he's the reason the band even exists. He's a major part of the songwriting process. He's the voice that stood up for Metallica and musicians across the globe in the wake of Napster.
After hours and hours of rifling through photos of Ulrich, we whittled this list down to just a few of our favorite live shots from the last 20 years. Of course, there's no way to encapsulate Ulrich in a mere photograph, but as you will no doubt be able to tell, you can get pretty close.
More From Big Stack 103.9