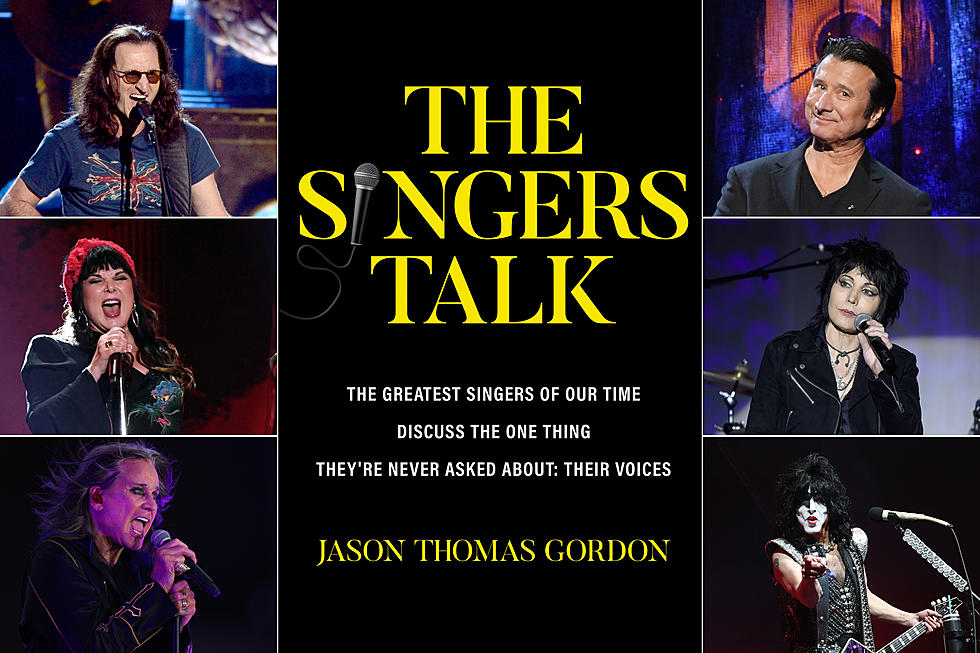 A Who's Who of Rock Singers Speak About Their Voices in New Book 'The Singers Talk'
Kevin Winter (2) / Ethan Miller / Harry How / Permuted Press / Mike Coppola / Jamie McCarthy, Getty Images
Ever wonder what your favorite singer thinks about their voice? Give a singer a microphone and ask them about their voices, and you'll get some pretty great stories. That's the gist behind a new star-studded book titled "The Singers Talk - The Greatest Singers of Our Time Discuss the One Thing They're Never Asked About: Their Voices." Some of the biggest musicians in music have contributed to the page-turner, offering insight on how they do what they do so well. Ozzy Osbourne, Paul Stanley, Ann Wilson, Brian Johnson, Bruce Springsteen, Perry Farrell, Robert Smith, Roger Daltrey, Thom Yorke, Steve Perry, Joan Jett and a host of others have contributed to the book.
The idea came from Jason Thomas Gordon, the lead singer and drummer for the Los Angeles band Kingsize, who was searching for some answers in his own journey as a singer, so he opened the floor to some of music's biggest names. In total, there are over 70 conversations, including those with living stars and some modern-day rockers who shared their experiences with some of the top deceased vocalists, including Tom Morello (for Chris Cornell), Butch Vig (for Kurt Cobain), producer Eddie Kramer (for Jimi Hendrix), Robby Krieger (on Jim Morrison) and more.
"Singing is so much more than hitting the right note," Karen O of Yeah Yeah Yeahs tells Gordon. "It's about connecting with the audience, connecting with something divine, connecting to your most primitive and deepest intuition, and to your nature as a human on this planet."
Radiohead's Thom Yorke admitted when speaking for the book, "This is the most geeked out I've ever talked about my voice!"
The all-star contributors deliver revelatory stories about the challenges they face onstage and in the studio while offering a masterclass on how to keep their vocal cords in shape. And if you're looking for tips, it's hard to beat this lineup of musicians. Check out all the contributors below:
Bryan Adams ● Seth Avett (The Avett Brothers) ● Tony Bennett ● Nile Rodgers on David Bowie ● Ben Bridwell (Band of Horses) ● Andy Wallace on Jeff Buckley ● Belinda Carlisle (The Go-Go's) ● Neko Case ● Nick Cave ● Jody Stephens on Alex Chilton & Big Star ● Chuck D (Public Enemy/Prophets of Rage) ● Butch Vig on Kurt Cobain ● Citizen Cope ● Tom Morello on Chris Cornell ● Roger Daltrey (The Who) ● Britt Daniel (Spoon) ● Joe Elliott (Def Leppard) ● Perry Farrell (Jane's Addiction) ● Patty Griffin ● Sammy Hagar ● Emmylou Harris ● Davey Havok (AFI) ● Eddie Kramer on Jimi Hendrix ● Clive Davis on Whitney Houston ● Brittany Howard (Alabama Shakes) ● Chrissie Hynde (Pretenders) ● Jim James (My Morning Jacket) ● Joan Jett ● Brian Johnson (AC/DC) ● Norah Jones ● Peter Albin on Janis Joplin ● Simon Le Bon (Duran Duran) ● Geddy Lee (Rush) ● Steven Van Zandt on Little Richard ● John Lydon (The Sex Pistols/PiL) ● Aimee Mann ● Chan Marshall (Cat Power) ● Michael McDonald ● Sam Moore (Sam & Dave) ● Robby Krieger on Jim Morrison ● Meshell Ndegeocello ● Lukas Nelson ● Willie Nelson ● Aaron Neville ● Stevie Nicks (Fleetwood Mac) ● Karen O (Yeah Yeah Yeahs) ● T Bone Burnett on Roy Orbison ● Ozzy Osbourne ● Steve Perry (Journey) ● Jimmy Iovine on Tom Petty ● Doug Pinnick (King's X) ● Wendy Melvoin on Prince ● Marky Ramone on Joey Ramone ● Steve Cropper on Otis Redding ● Lionel Richie ● LeAnn Rimes ● Chris Robinson (The Black Crowes) ● Smokey Robinson ● Johnny Rzeznik (Goo Goo Dolls) ● Al Schackman on Nina Simone ● Matt Skiba (Blink–182/ Alkaline Trio) ● Robert Smith (The Cure) ● Bruce Springsteen ● Billy Squier ● Paul Stanley (Kiss) ● Mavis Staples ● Rod Stewart ● Michael Stipe (R.E.M.) ● Jeff Tweedy (Wilco) ● Dionne Warwick ● Roger Waters (Pink Floyd) ● Ann Wilson (Heart) ● Thom Yorke (Radiohead).
READ MORE: 10 Rock + Metal Singers Whose Voices Never Aged
You can look for "The Singers Talk" arriving on Sept. 5 through Permuted Press. Pre-orders are available now at this location. It should also be noted that Gordon is turning around all royalties from the book to benefit the kids and families at Memphis's St. Jude Children's Research Hospital through its Music Gives to St. Jude Kids campaign, which was created by the author. St. Jude was founded in 1962 by Gordon's grandfather, entertainer Danny Thomas.
Top 50 Metal Frontmen + Frontwomen of the 21st Century
Loudwire's picks for the greatest metal frontmen and frontwomen since 2000.
More From Big Stack 103.9